Today at the annual event "Synology 2023 & Beyond," Synology announced news about its own NAS software DiskStation Manager (DSM) and upcoming products. It also includes a new router and dedicated IP cameras for the monitoring station of the NVR system and NAS system.
DSM 7.2 is coming in early 2023
With DSM 7.2, Synology has announced the next update for its NAS operating system and announced a release in early 2023. Among other things, DSM 7.2 introduces full volume encryption, which is said to increase storage performance by up to 48 percent compared to encryption based on shared folders.
Worm folder against ransomware
DSM 7.2 introduces WORM (Write Once, Read Many) folders. In such folders, the data is protected from manipulation by not being able to change or delete it for a specified period of time. In future irreversible data backup can also be done through Hyper Backup. Specifically, by not being able to manipulate the data, Synology wants to increase protection against ransomware and cybercriminals, who repeatedly encrypt data on systems to "ransom" them for decryption.
Erase data remotely with Synology Drive
Synology Drive will also receive an update, allowing teams to protect their shared data with watermark and download policies. For example, the ability to remotely delete data by deleting synchronized folders from stolen Windows and macOS clients is intended to reduce security risks. In addition, automatic login with AD credentials and setup of backup and sync functions simplifies large-scale deployment, Synology said.
smb multichannel
Data sharing via SMB also sees changes with DSM 7.2, with cross-protocol file locking between SMB shares and Synology Drive ensuring that files in use cannot be edited or overwritten. In addition, with SMB multichannel transfer, all available network connections between the server and the client can be used to increase the performance of SMB file transfers.
Synology AI Cameras
Along with NVR systems and surveillance stations, Synology already provides hardware and software for video surveillance. Beginning in 2023, Synology 500 series IP cameras will be added, whose settings can be managed directly in the surveillance station. The cameras offer features such as intrusion, people and vehicle detection and come in two form factors with a 5MP sensor that is capable of recording in 16:9 3K (2880×1620) at 30 fps. The cameras support PoE and are weatherproof (IP67) and hence can be used both indoors and outdoors.
scalable storage server
Synology has also announced new, horizontally scalable systems for file and object storage for 2023. Scale-out clusters are said to be significantly faster than Synology's current largest solutions, as performance and capacity can be increased almost linearly by adding more devices. The first generation of the scale-out system supports clusters of 60 servers for effective storage capacity in excess of 12Pb, sequential writes in excess of 60Gb/s, and over 80,000 concurrent connections. The clusters offer over 99.99 percent availability and Synology's data protection solutions support HyperBackup and ActiveBackup.
Worldwide backup management
A new management platform for Active Backup and C2 Backup aims to integrate Synology's on-premises and cloud solutions for managing data backup tasks across IT infrastructures, regardless of the location and size of systems and services, Enables deployment and monitoring. All devices and services can be backed up through the platform and restored if required.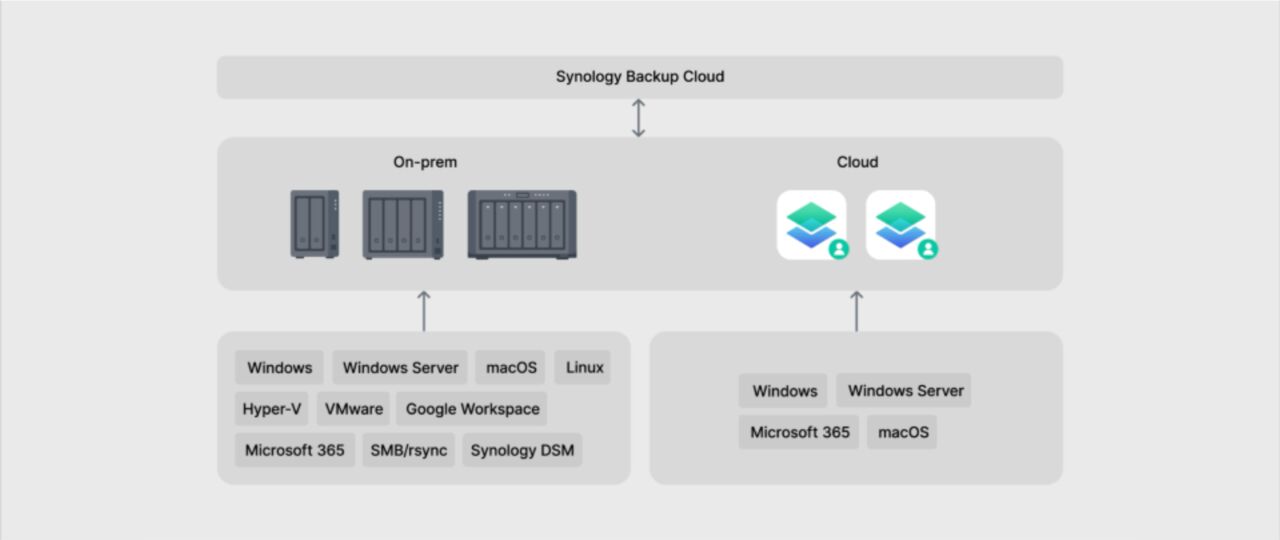 Active Insights: Detecting breaches and abuse
Active Insight also receives adjustments to automatically block activities that violate privacy rules. To prevent data loss, the new function monitors user activities such as login, file access or sharing files and folders, and compares the checksums of uploaded or shared files. When thresholds are reached or rules are triggered, the system can either send alerts or take direct action, such as disconnecting potentially infected clients from ransomware.
What's new for C2 Identity
In the coming year Synology C2 Identity, central management of identities and devices will also be expanded to enable passwordless local and online login for devices and services. Among other things, Windows Hello and Apple Face ID/Touch ID will be integrated and in connection with the upcoming C2 Identity user portal, employees using managed devices will be automatically signed in to web services with SAML support. could. Alternatively, two-factor authentication (2FA) can be enabled for more sensitive services such as ERP or CRM systems.
Along with the WRX560, Synology has also announced a new Wi-Fi 6 router.
ComputerBase has received information about this article from Synology under NDA. The only requirement was the earliest possible publication date.
Internet fan. Alcohol expert. Beer ninja. Organizer. Certified tv specialist. Explorer. Social media nerd.